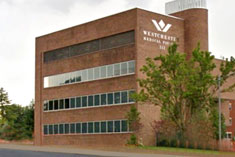 Need Help?
Please call us at
914-946-9400
if you have any questions - We're here to help.
Comprehensive MRI of White Plains
(Comprehensive MRI of New York, P.C.)
Westchester Medical Pavilion
311 North Street, Suite G10
White Plains, NY 10605

Tax ID: 11-3119655
NPI: 1043742927

Contacts
Regional Sales Manager: Peggy Anne McCann

Regional Operations Manager: Jamie DuBose

Assistant Office Manager: Reshida Jones

Call Center Manager: Priscilla Rosario

Medical Records:

Map & Directions
Join Our Team - Careers
Comprehensive MRI of White Plains is always looking for talented, dedicated professionals.
Including:
Administrative & Managerial Services
Medical Receptionists
MRI Technologist
Marketers
Contact Information
For additional information about our services, or to offer comments or suggestions: